AIMIL
, the exclusive OROS reseller in India, will display the
OROS Noise and Vibration Testing Systems and Solutions
to the Aerospace & Defence Manufacturing Show-ADMS 2017. The show is from 17 to 18 August in Bangalore, India.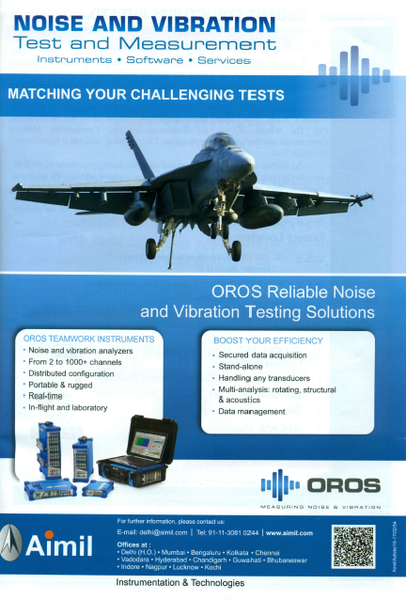 Government of India is pursuing an ambitious plan to increase the manufacturing capability of Indian defence and aerospace companies for reducing the imports and making the country self-reliant in Defence Sector under the 'Make-in- India' programme. Supporting this national campaign for imparting latest technologies and providing new opportunities for Indian companies in Aerospace and Defence Manufacturing, we are organising the Fourth edition of ADMS.
More info on the show
.
OROS – Noise and Vibration Testing Solutions
Matching your Challenging Tests in Aerospace Applications
OROS is a global manufacturer and solution provider of noise and vibration measurement systems: Instruments, Software and Services. It masters the latest technology of data acquisition, digital signal processing as well as application oriented software for testing and measurement.
Whenever dealing with aerospace or defense crafts, a test is always costly and must be accomplished in a short-time window. At the development stage of aircraft wing structures or satellites, measurements such as modal analysis, often based on multiple shaker excitation, must be successful the first time and data stored safely and securely. Portable, flexible, rugged and accurate, the OROS analyzers handle your noise and vibration tests whatever your environment: test center and transportation, laboratory or in-flight data acquisition. Providing flexible configurations (rack, stand-alone or distributed up to 1000 channels), the OROS solutions enhance your efficiency.
Jet & Rocket Engines Tests: the OROS analyzers record raw data and display the information you need for proper jet engine test. Thanks to the Synchronous Order Analysis, they compute the orders of jet engines during hours of tests required by the propulsion tests centers or flight/taxi tests. The integrated conditioners offer a wide range of transducer interface (ICP, Float, ±40 V, Strain gauges, Thermocouples, PT100, Oversampled tachs). The analyzer is easy to integrate in the test benches.
Data Acquisition: Components integration for in-flight recording requires a portable, rugged and easy recording system. PC free recording is especially very useful for the toughest conditions (direct recording, distributed systems).
Structures Test - Spacecraft structures are checked with the large channel distributed systems. It measures simultaneously up to 1000+ channels for one shot tests. From shaker or loudspeaker excitation the FFT, 1/n Octave and swept-sine offer real-time monitoring and provide immediate results and raw data making the test conclusions faster.
For more than 30 years, OROS solutions are renowned as being designed for the field but powerful enough for any lab.